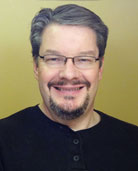 About me
I have 20+ years experience as an art director for a wide variety of high-tech, financial, healthcare, B-to-B, retail, and non-profit clients; 17 of those with Riger Advertising, the leading marketing firm in the Binghamton, NY, area, where I was Senior Art Director, and more recently with Binghamton University, where I'm an Art Director in the Office of Communications and Marketing.
I do occasional freelance work for a select few corporate customers, and a lot of design projects for my musician, writer, and artist friends.
I am also a singer-songwriter, with an independently-released CD that I recorded in my home studio, available at CDBaby, iTunes, and Amazon; and a published poet.